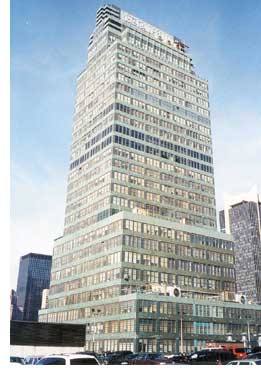 330 West 42nd Street - McGRAW HILL BUILDING
Deco Tower Associates (Owner)
New York City
This local and National landmark structure was designed by architect Raymond Hood in the International Style for McGraw Hill Publishing in 1931. Prior to FacadeMD's work, the building was surrounded by sidewalk bridging over a period of several years, to protect the public from falling terra cotta fragments. Several previous projects which had involved the use of inappropriate materials caused substantial additional deterioration.
Owners commissioned FacadeMD to conduct a Survey of exterior walls, from the ground, from roofs, and from swing scaffolding, and to perform identification and analysis of deteriorated conditions, leading to the preparation of construction documents for restoration work. FacadeMD professionals were responsible for design of new steel substructure for the parapet walls, to allow proper aeration and provide concealed waterproofing, and to support replacement terra cotta blocks extruded specifically for this project. Steel railings, duplicating the original appearance but updated to new code requirements, were also installed.
The FacadeMD Team coordinated bidding and filing processes, as well as site meetings with the owner and contractor, and performed periodic visits to the site during the construction phase.