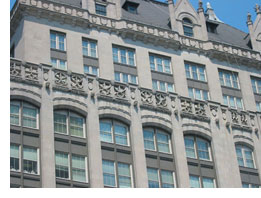 RESTORATION OF UNIQUE / HISTORIC STRUCTURES
The restoration of unique and historical structures is the most exciting area of FacadeMD's work. Being selected as the professional organization entrusted with the investigation, analysis and repair design for irreplaceable landmark structures is a tremendous honor and responsibility.
The process begins with detailed research of available records, and a careful investigation of actual conditions at the building. Analysis of collected information leads to discussions with ownership and regulatory agencies regarding restoration options. Often work on historical structures may be influenced by preservation regulations that limit or determine the choice of materials and plan of action. FacadeMD's substantial experience in historic restoration can be of immense value in guiding the project towards a clear and effective solution.
Many of the materials and techniques used in the original structure may no longer be readily available. This opens the door to recreating the facade work from alternative materials or initiating a search for new sources of appropriate materials, as well as skilled craftsmen or artisans to accomplish the necessary work.
Careful examination of the structure and its previous repair work are important to a full understanding of the context of past restoration activity, as well as optimal procedures going forward. Appreciation of earlier skills, the tools used and methods of construction, help the FacadeMD Team arrive at efficient work recommendations and accurate restoration costs. FacadeMD restoration plans strive to balance today's construction capabilities and materials usage with the original pride of craftsmanship reflected in the architectural style and quality of the original structure.