233 Broadway - WOOLWORTH BUILDING
The Witkoff Group (Owner)
New York City
Since 1987, FacadeMD professionals have been responsible for exterior condition surveys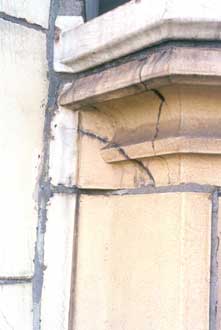 as well as the identification and analysis of all conditions affecting deterioration of this famous New York landmark. Such surveys have been undertaken from the ground, from the roofs, and from various scaffolding, and have led to the preparation of necessary construction documents for all on-going restoration work.
Throughout this period, the FacadeMD Team has coordinated all bidding and filing processes, site meetings with owners and contractors, and has performed periodic visits to the site throughout the construction phases. FacadeMD Team professionals have handled necessary replacement of original deteriorated terra cotta cladding and ornament with new cast concrete and GFRC panels to match as closely as possible the original building appearance.
Restoration has included stabilization pinning of original terra cotta cladding, in place wherever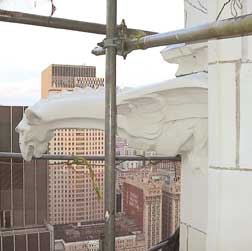 possible, re-setting of original terra cotta stones, re-pointing of mortar joints, patching of original terra cotta glaze material and repair and replacement of corroded structural steel as required, in addition to the repair and replacement of copper and bituminous roofing wherever necessary. FacadeMD also designed unique flashing and anchorage details and restored missing ornamentation and color schemes.
Unique Historic Structure:
A Local and National landmark structure, The Woolworth Building was designed by architect Cass Gilbert and was the tallest building in the world at the time of its completion in 1913. FacadeMD has been the professional of record for all exterior work since 1987, including continuous, on-going restoration and preservation assignments.